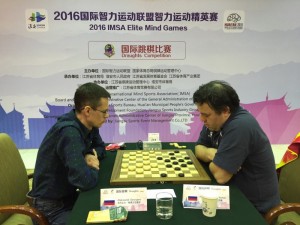 Today, the first four rounds of the Open and Women rapid events were played.
In the Open category, World Champion Alexander Georgiev from Russia has taken the lead together with fellow country men and former World Champions Alexey Chizhov and Alexander Shvartsman and grandmaster Murodullo Amrillaev. Six players, amongst whom Vice World Champion Jean Marc Ndjofang from Cameroon are following with one point less.
In the Women category, Natalia Sadowska from Poland has taken the sole lead with seven points. One point behind Sadowska are World Champion Zoja Golubeva from Latvia and Darya Tkachenko (Russia). Sadowska due to her silver medal in the 2015 World Championship in Wuhan, China has earned the right to later this year challenge Golubeva in a match for the World Title. It is with this in mind that the games between Sadowska and Golubeva  will be even more fascinating to watch.
Photo: Georgiev – Shvartsman 1-1, round 4.