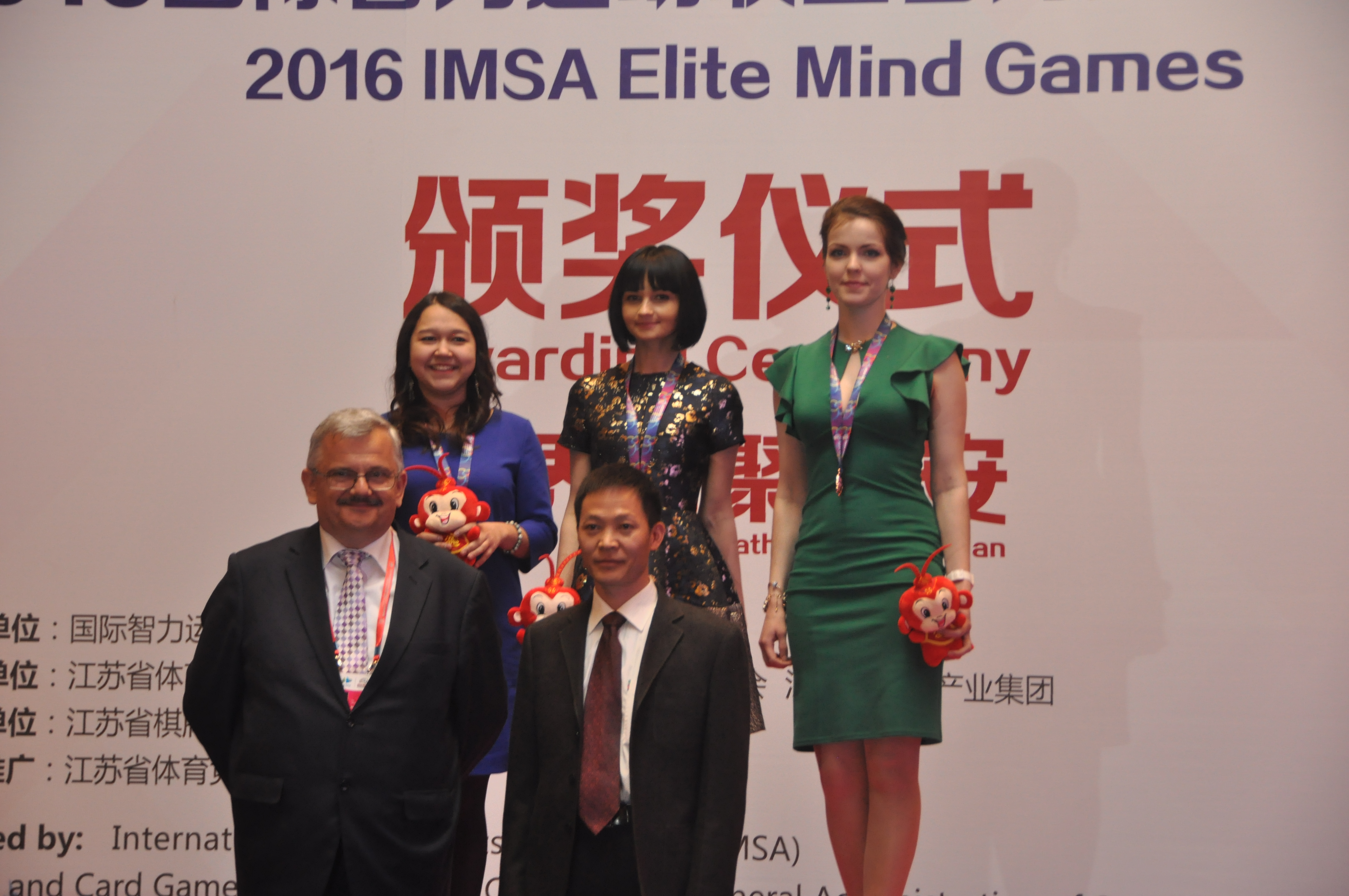 Photo: the medallists together with dignitaries. FMJD Tournament Director Jacek Pawlicki (Poland) on the left.
She strides through the playing venue as a queen, and that's how she ruled the Women Blitz event with her powerful decision making skills. Darya Tkachenko (Russia) limited the excitement in the women blitz event to the battle for second place. Because with 32 points out of 19 games – six points ahead of silver medallist Aygul Idrisova (Russia) – she made clear that there was to be no discussion about her gold medal. Viktoriya Motrichko (Ukraine) earned bronze, three points ahead of Olga Kamyshleeva (The Netherlands).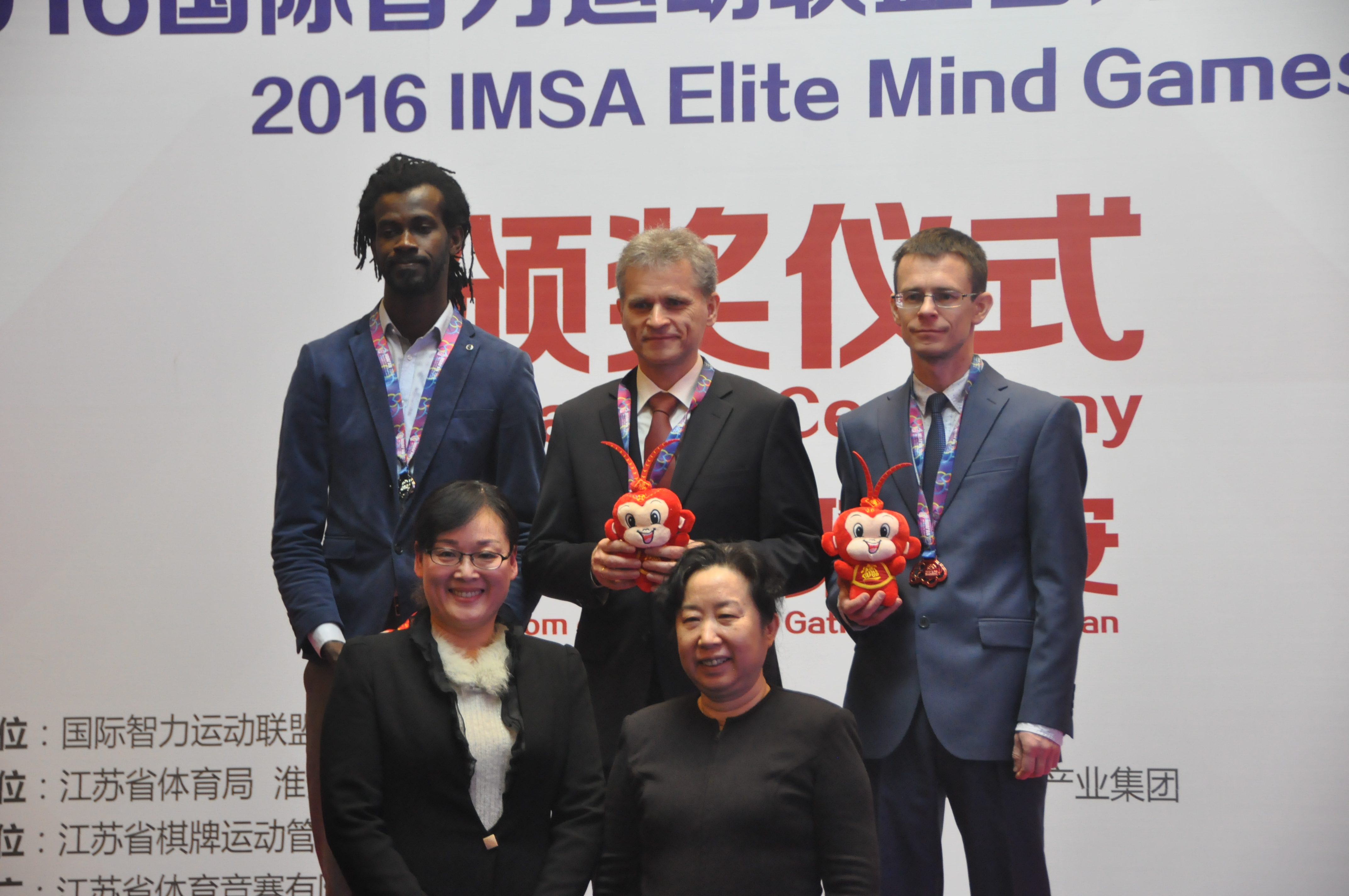 Photo: the medallists together with dignitaries. FMJD Acting President Chen Zelan (China) on the right.
In the Open Blitz event, competition for the gold medal was fierce. Already the first game of the day brought spectacle. Because after his convincing victory yesterday in the last round over World Champion Alexander Georgiev, then tournament leader Freddy Loko Luzayadio of RD Congo started the day with a victory over manyfold Blitz World Champion Alexander Shvartsman.
It was only in tenfold World Champion Alexey Chizhov, that Loko several games later found his Waterloo. Chizhov, himself like Loko known for his exceptional mastery of the classical game, surprised his RD Congo opponent with a clever exchange for a forced win. With yet another defeat for Loko against Alexander Baliakin from The Netherlands, the battle for first place was all open again, with Loko remaining one of the contenders.
Chizhov once again showed his superiority by finishing two points ahead (33 points out of 23) of that other blitz specialist from the African continent: N'Cho Joel Atse from Ivory Coast who one round before the end robbed Loko from a medal by beating him in an end game. Reigning World Champion Alexander Georgiev played strong as ever and obtained an equal number of points as Atse (31), but scored less victories. Loko (RD Congo) together with Virny (Germany) and Baliakin (Netherlands) followed one point behind.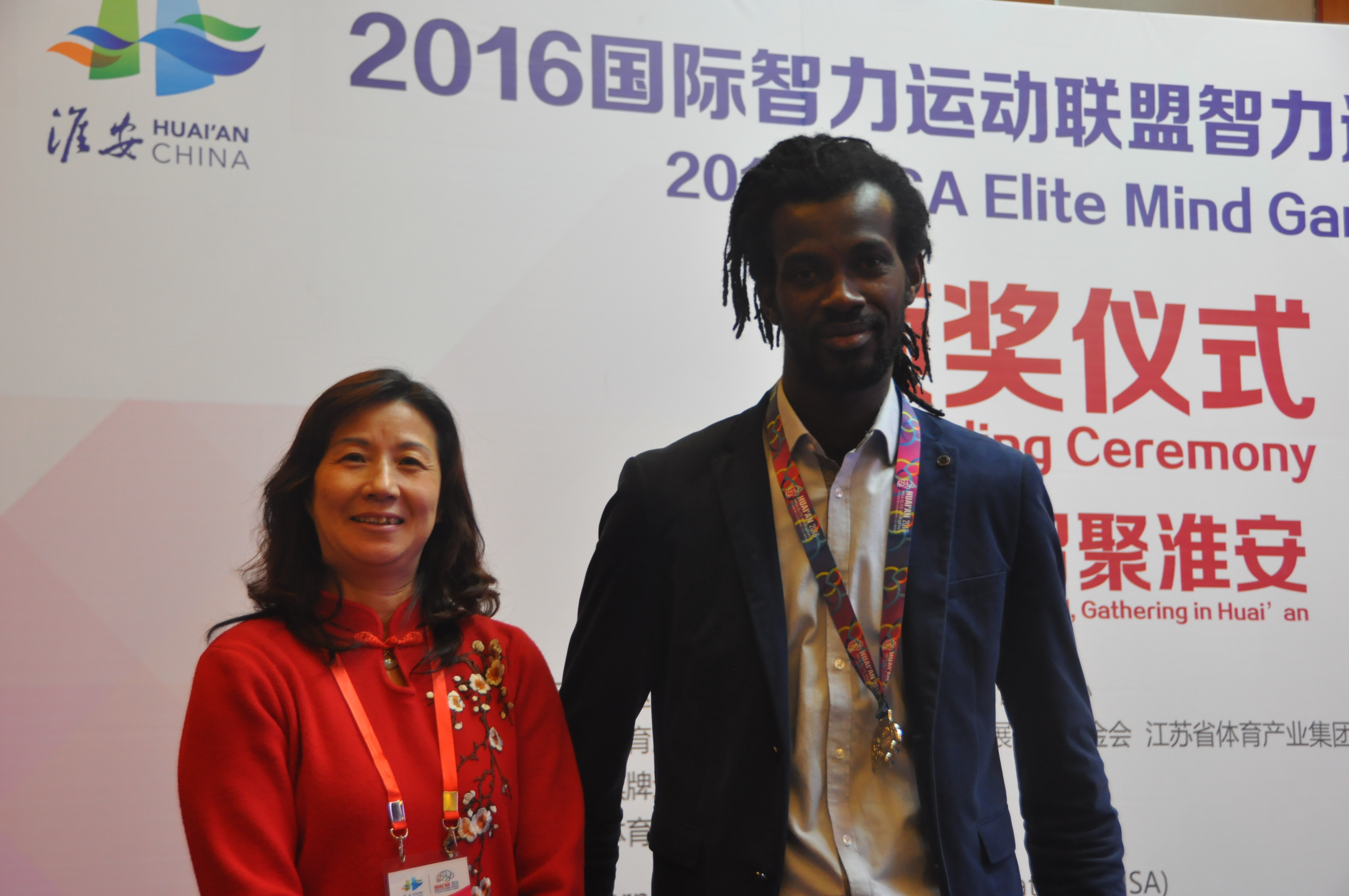 Photo: silver medallist N'Cho Joel Atse with Xia Jinjuan, secretary general of Chinese Draughts Association.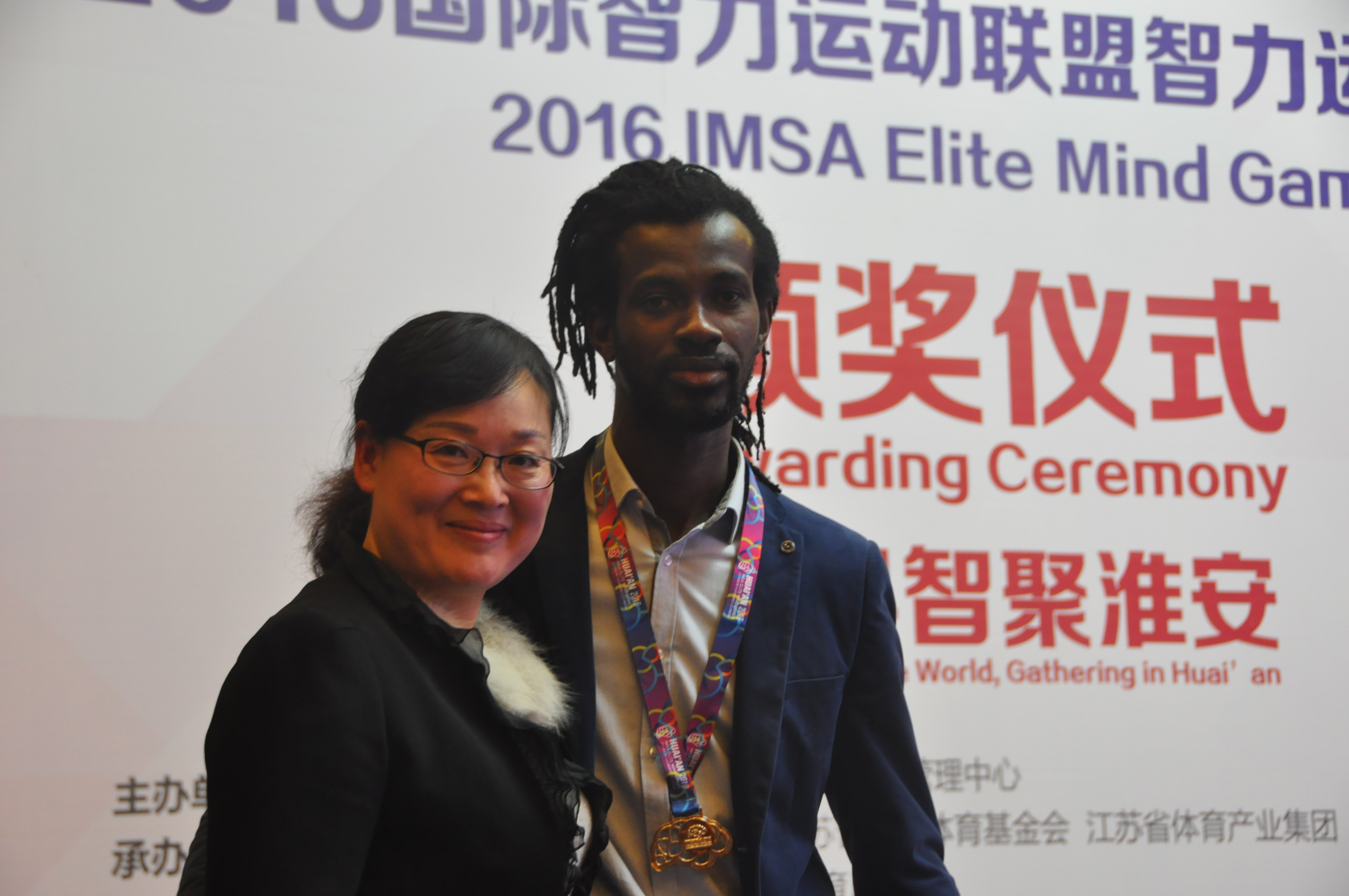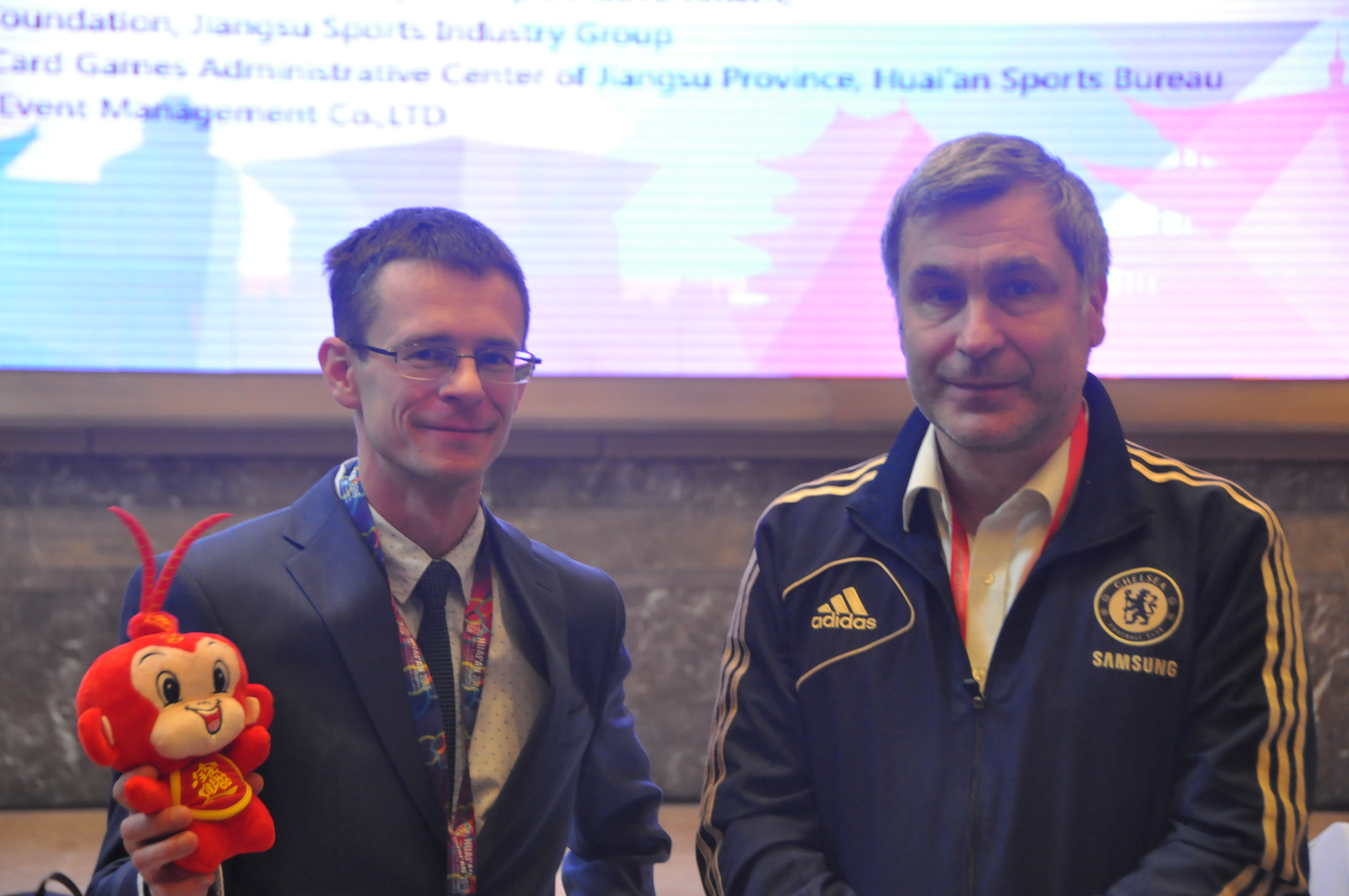 Photo: World Champion Alexander Georgiev and Chess Grandmaster Vassily Ivanchuk.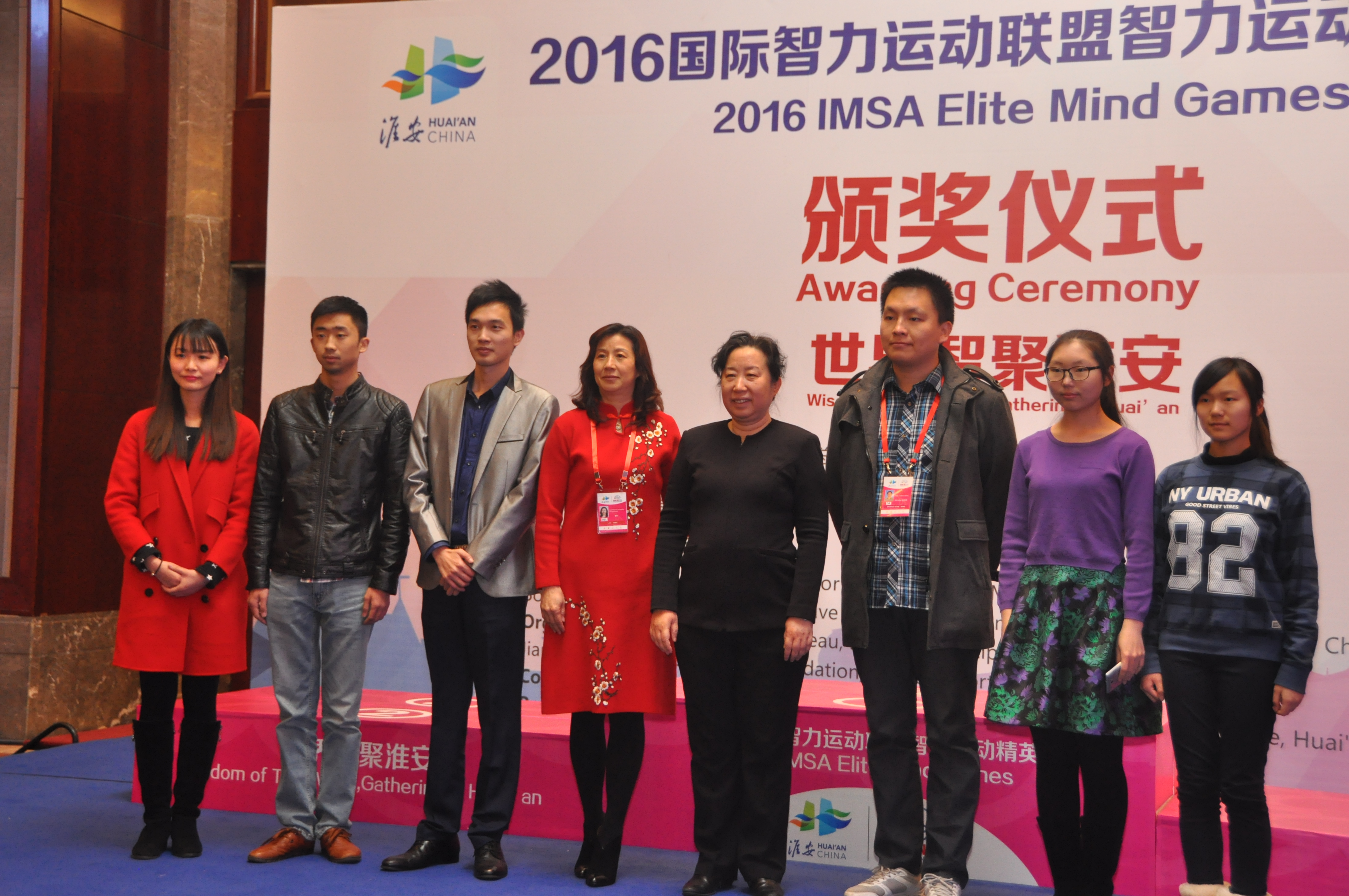 Photo: Chinese athletes and their leaders. From left to right: Zhao Hanqing, Gao Wenlong, Zhou Wei, Xia Jinjuan, Chen Zelan, Tian Chengcheng, Sai Ya and Zhang You.